Thanks
All the information and photographs on this site has been pieced together from books, websites and personal correspondence.
I would like to thank everyone who has made information available on the various concrete ships. Links to their efforts can be found throughout this site.
| | |
| --- | --- |
| | I would like to thank Connie Considine Kelly, author of Atlantus and the History of Concrete Ships, whose research and book helped inspired me to create this site and provided a starting point for me to conduct my own research. |
Special thanks to John Campbell for information and photographs on the Powell River Breakwater ships. Good luck to John on his upcoming book, Hulks: The Breakwater Ships of the Powell River Area.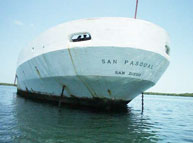 Thanks to Raúl Sarmiento for photos and filling me in on the history of the S.S. San Pasqual.
I must also thank Rolf Skiold of Sweden for his excellent website on concrete ship construction. His site was the source for all the Vital Statistics and names of the ship builders.
Thanks to Centre of the Web for graciously hosting this website.