The Powell River Floating Breakwater
Of all the concrete ships built during World War I and II, only 10 are known to still be afloat. These ships form a massive floating breakwater on the Malaspina Strait in the city of Powell River in British Columbia, Canada.
The breakwater was constructed to protect the logging pond of the Powell River Company pulp and paper mill (later purchased by Pacifica Papers).
While nine of these ten ships were built during the Second World War, the tenth ship, the S. S. Peralta, is the last remaining WWI concrete ship afloat.
In December of 2000, the mill was downsized as the result of a corporate merger between Pacifica Papers and NorskeCanada. The mill no longer processes raw materials, so they were planning to remove a few ships from the breakwater. The company changed its mine and decided to keep all ten ships, but rearranged them.
Ships
This chart is no longer current due to the reconfiguration of the breakwater at the end of 2002. Hopefully I will get this updated soon.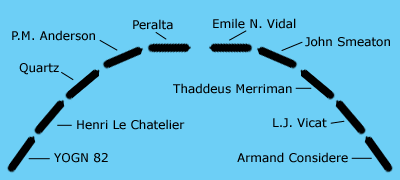 Photos
Click on a photo for a much larger version
(Photos courtesy of John Campbell)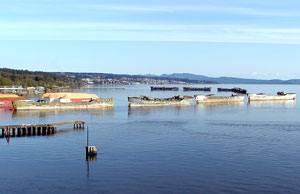 Looking south at the breakwater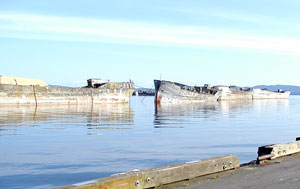 The Armand Considere (left) and L.J. Vicat (right)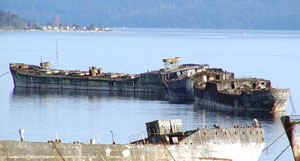 The Quartz (left), P.M Anderson (middle) and Peralta (right)
For more photos, see our Powell River Breakwater Photo Gallery.
Relevant Links