S. S. Sapona
The S. S. Sapona was a cargo steamer built by the Liberty Ship Building Company in Wilmington, North Carolina and launched in January, 1920. She is the sister ship of the Cape Fear.
The Sapona was purchased by Carl G. Fisher in Miami Beach, Florida. Fisher traded the ship's engine and machinery to a dredging company in exchange for dredge work and the ship itself was used for oil storage.
In April of 1924, the Sapona was sold to rum runner, Bruce Bethel, in the Bahamas. He towed the ship near Bimini where she was used as a floating warehouse for rum and whiskey during Prohibition. Bethel also planned to use the ship as a night club.
In 1926, the Sapona ran aground on a reef during a hurricane and the stern of the ship broke off from the rest of the ship. Bethel's liquor stocks were also destroyed and he died penniless in 1950.
During World War II, the wreck was used for target practice by the Air Force and Navy. The legendary Lost Squadron of Flight 19 disappeared in the Bermuda Triangle on December 5, 1945 while returning home from a practice bombing of the Sapona. Itis said that the bombing of the Sapona was stopped shortly afterwards.
Location
The S. S. Sapona lies in 17 foot deep water, 4 miles south of Bimini Island in the Bahamas. Military target practice and the weather have stripped the hull of most of its concrete. The wreck is a very popular diving site since it is in such shallow water and attracts a multitude of fish.
Photos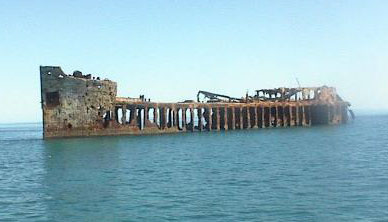 (Photo courtesy of Davis King)
There are more photos available on the S. S. Sapona Photo Gallery.
Relevant Links
Vital Statistics
Gross Weight: 2,795 Tons
Net Weight: 1,993 Tons
Draft Weight: 3, 590 Tons
Dimensions: 86 meters x 14.02 m x 8.61 m
Engine: T. 3-cyl., 1.520 ihp, designed speed 101Ê2 knot