S.S. Henri Le Chatelier
The S.S. Henri Le Chatelier was built by McCloskey and Company in Tampa, Florida and launched January 30, 1944. She was operated by A.H.Bull and Co. operated for trading sugar and, later, by the US Army as a store ship in the South Pacific. In 1948, the ship was purchased by the Powell River Company to be used in their floating breakwater.
Location
The S. S. Henri Le Chatelier is still afloat as part of a breakwater on the Powell River in British Columbia, Canada.
Photos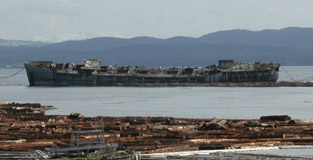 Click on the image for a larger version.
(Photo courtesy of John Campbell)
Relevant Links
Vital Statistics
Gross Weight: 4,690 Tons
Net Weight: 2,738 Tons
Dimensions: 102.53 meters x 16.45 m x 10.66 m
Engine: T.3-cyl, Prescott Mehy Co.