S. S. Selma
The S. S. Selma was an oil tanker constructed by F. F. Ley & Company, in Mobile, Alabama and launched on June 28, 1919. She is the sister ship of the S. S. Latham.
On May 11, 1920, the Selma struck a jetty at Tampico, Florida and was damaged. She was temporarily repaired and headed to Galveston, Texas for further repairs. Unfortunately, the repair crew in Galveston had no experience with concrete ships. The government finally decided to scrap the ship. A channel was dug in near Pelican Island, Texas and on March 9, 1922, the Selma was taken to her final resting place.
Various plans were made to convert the Selma - a fishing pier, pleasure resort and even an oyster farm - but none ever materialized.
In 1992, the Selma was purchased by A. Pat Daniels, retired editor of the Houston Chronicle and Galveston Daily News. Through his efforts, the Selma has been recognized with a Texas Historical Commission's Official Texas Historical Marker and is listed on the National Register of Historic Places. The Selma has even been designated as the Official Flagship of the Texas "Army" and a State Archeological Landmark by the Texas Antiquities Committee.
Every year, Mr. Daniels throws a birthday party for the Selma.
Location
The S. S. Selma lies on the Pelican Flats in Galveston, Texas.
Photos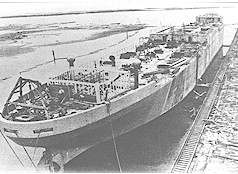 Construction of the Selma
(Source: MAREUD)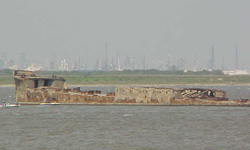 The Selma Now
(Source: Mitch Perry)
See more photos in the S.S. Selma Photo Gallery.
Relevant Links
Vital Statistics
Gross Tonnage: 6, 826 tons
Net Tonnage: 4,225 tons
Dimensions: 125.70 meters x 16.48 m x 10,97 m
Engine: T. 3-cyl., 359 NHP. Hoovens Owen & Lentschler Co., Hamilton, Ontario