A Brief History of Concrete Ships
The oldest known concrete ship was a dingy built by Joseph Louis Lambot Southern France in 1848. The boat was featured in the 1855 World's Fair in France.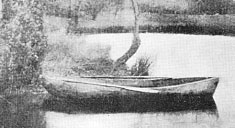 Photo of one of Lambot's ferro-cement boats
(Found on FerroBoats.com)
In the 1890's, an engineer in Italy named Carlo Gabellini built barges and small ships out of concrete. The most famous of his ships was the Liguria.
On August 2, 1917, N.K. Fougner of Norway launched the first ocean-going concrete ship, an 84 foot long boat named Namsenfjord. With the success of the ship, several more small concrete vessels were built.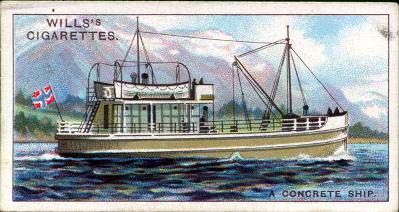 Picture of the Namsenfjord
Numerous small concrete boats were built in the U.K in the 1910's. One of these ships, the Violette, was built in 1917 and is currently used as a boating clubhouse on the Medway River in England. This makes her the oldest concrete ship still afloat.
In 1917, the United State finally entered World World I and steel became scarce while the demand for ships went up. The US government invited N.K. Fougner to head a study into the feasability of concrete ships.
Meanwhile, businessman W. Lesie Comyn took the initiative and formed the San Fransisco Ship Building Company (in Oakland, California) to begin constructing concrete ships. He hired Alan Macdonald and Victor Poss to design the first American concrete ship, a steamer named the S. S. Faith.
The Faith was launched March 18, 1918. She cost $750,000 to build. She was used to carry cargo for trade until 1921, when she was sold and scrapped as a breakwater in Cuba.
President Woodrow Wilson finally approved the Emergency Fleet program which oversaw the construction of 24 concrete ships for the war. However, only 12 were under construction and none of them had been completed by the time the war ended. The 12 ships were completed and sold to private companies who used them for light-trading, storage and scrap.
With the advent of World War II, steel once again was in short supply. In 1942, the US government contracted McCloskey & Company of Philadelphia, Pennsylvania to construct a new fleet of 24 concrete ships. Construction of the fleet started in July, 1923 in Tampa, Florida. Innovations in cement mixing and composition made these ships stronger than the previous fleet.
Other companies were contracted to build barge ships. These too were large vessels, but they lacked engines to propell them. Instead, they were used for storage and towed around by other ships.
After the war, several of the ships were turned into a floating breakwater in Canada and ten more were sunk as a breakwater in Virginia.
Although the end of WWII marked the end of large-scale concrete ship building, to this day, smaller recreational boats are still being made from concrete.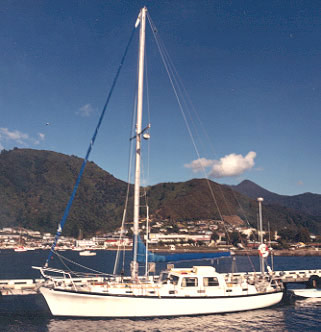 A Ferro-Cement sailboat (from FerroBoats.com)
Related Links