Quartz
The Quartz was built by Barret and Hilp Company at Belair Shipyard in San Fransisco, California and launched on December 4, 1943. She was commisionned by the US Navy on on April 13, 1944. Classified as a B7 D1 barge, she was one of twenty concrete barges built by Barret and Hilp.
As a barge, the Quartz did not have any engines. She was towed from base to base in the South Pacific, loading and unloading cargo to faster ships.
In July, 1946, the Quartz participated in the first atomic bomb tests at the Bikini Atoll.
On October 23, 1947, the Quartz was finally purchased by the Powell River Company and used as part of their breakwater.
Location
The Quartz is still afloat as part of a breakwater on the Powell River in British Columbia, Canada.
Photos
Click on a photo for a larger image
(Courtesy of John Campbell)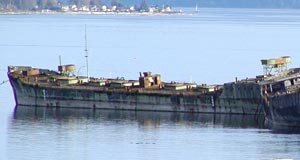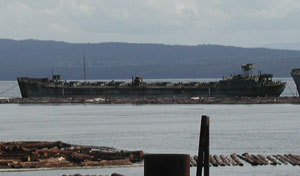 Relevant Links
Vital Statistics
Length: 366 Feet
Breadth: 54 Feet
Depth: 35 Feet
Draught: 26 Feet
Gross Weight: 4,338 Tons
Net Weight: 4,096 Tons