S. S. Palo Alto
While the S. S. Atlantus may be the most famous concrete ship on the east coast, the S. S. Palo Alto ("The Cement Boat") is the most famous concrete ship on the west coast. The Palo Alto was built as an oil tanker by the San Francisco Shipbuilding Company in Oakland, California and launched May 29, 1919. She is the sister ship of the S. S. Peralta.
The Palo Alto remained docked in San Fransisco Bay for over ten years until she was purchased by the Seacliff Amusement Company of Nevada and towed to Seacliff State Beach in Aptos, California. The ship was grounded in the bay and connected to the shore by a long pier. An arcade, dining room, dance hall and even a swimming pool were built on the ship.
Unfortunately, the Seacliff Amusement Company went out of business two years later under the financial crunch of the Great Depression. Then, in winter, a storm cracked the ship across her midsection. The Palo Alto was stripped of all salvagable metal and fixtures and turned into a fishing pier.
David W. Heron wrote a book about the ship, Forever Facing South, The story of the S.S. Palo Alto "The Old Cement Ship" of Seacliff Beach.
Location
The S. S. Palo Alto can be found at Seacliff Beach in Aptos, California. Until recently she was used as a fishing pier but has now been closed due to deterioration.
Photos
Click either image for a larger version.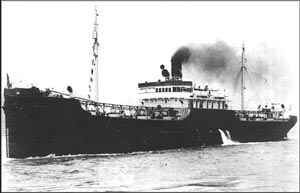 Then
(Courtesy of Paul Stevens)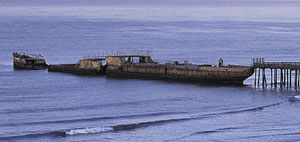 Now
(From the 2001 Prism Photographics Calendar)
For more photos, please see the S. S. Palo Alto Photo Gallery.
Paul Stevens also has an extensive gallery of photos on his S. S. Palo Alto website.
Related Links
Vital Statistics
Gross Tonnage: 6,144
Net Tonnage: 3,696
Dimensions: 128.02 meters x 16.46 m x 10,67 m.
Engine: T.3-cyl., 359 nhp, Llewellyn Iron Works, Los Angeles, 1 screw.